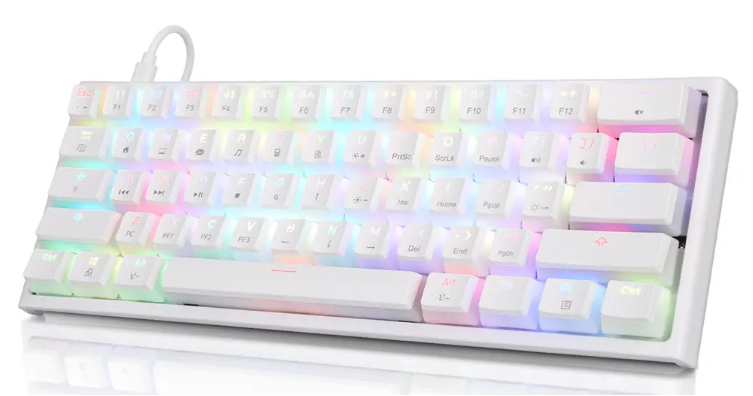 If you are a gamer or the kind of work you do requires a lot of typing, you will probably be more productive if you switch to a mechanical keyboard. The main reason mechanical keyboards offer a better typing experience is the fact that you are getting a clearer tactile and audible confirmation whenever you hit the keys.
However, mechanical keyboards are not only good for productivity; they can also be used for gaming. The Stoga Mk25 61keys Mechanical Pudding Gaming Keyboard is one of the best mechanical keyboards for gaming that you can get in its price range. Let's talk about it a little more.
Technical specs
Weight: 789 g
Dimensions: 6 x 4.33 x 1.57 inches
Backlight color: RGB Backlight
USB interface type: Type-C
Number of keys: 61 Keys
The features that make this keyboard good for gaming
Customizable RGB backlighting
A keyboard can't be called a gaming keyboard if it doesn't have RGB backlights. The RGB backlights of this keyboard can be customized to your liking. For instance, you may choose to make a specific button area of the keyboard red in one game and blue in another. This leads to a personalized gaming experience that lots of gamers value.
The keyboard lighting brightness can also be varied to reduce eye strain, especially when playing games in a dark room. Each key also has its independent light, making the overall backlight of the keys uniform. Having independent backlights for each key also makes it possible to customize the light color of each button if you want to.
Enough spacing between the keys
The keys of this keyboard are well spaced, making it almost impossible to hit the wrong keys while playing your favorite games. This kind of spacing also makes it ideal for doing productive work.
Compact and portable
Despite having enough spaces between the keys, this keyboard is compact enough and easy to carry around. So, if you want to game on the go using your laptop, this keyboard is what you need because it will perfectly fit in your laptop backpack. It also has a detachable USB, so you can always pull it off whenever you want to pack the keyboard.
The satisfying key-travel and tactile click
The main reason you are opting for a mechanical keyboard and not any other type is because of the tactile feedback you get while pressing the keys. The key-travel of this keyboard is also deep enough to ensure your fingers don't hurt when you use it a lot.
Negligible latency
This keyboard uses a high-speed USB connection which eliminates the latency between key inputs and the impact generated in the games.
With these features, this gaming keyboard is simply one of the best you can get below $50. Besides the features we have shared, this keyboard also inherits all the good attributes of mechanical keyboards, including durability, robustness, and reliability.
For more updates about our latest gaming accessories, you can follow us on Facebook, Instagram, Pinterest, and YouTube.