The latest Isabelle Wireless Pro Controller from STOGA assures enhanced gaming experience with cute design and advanced functions.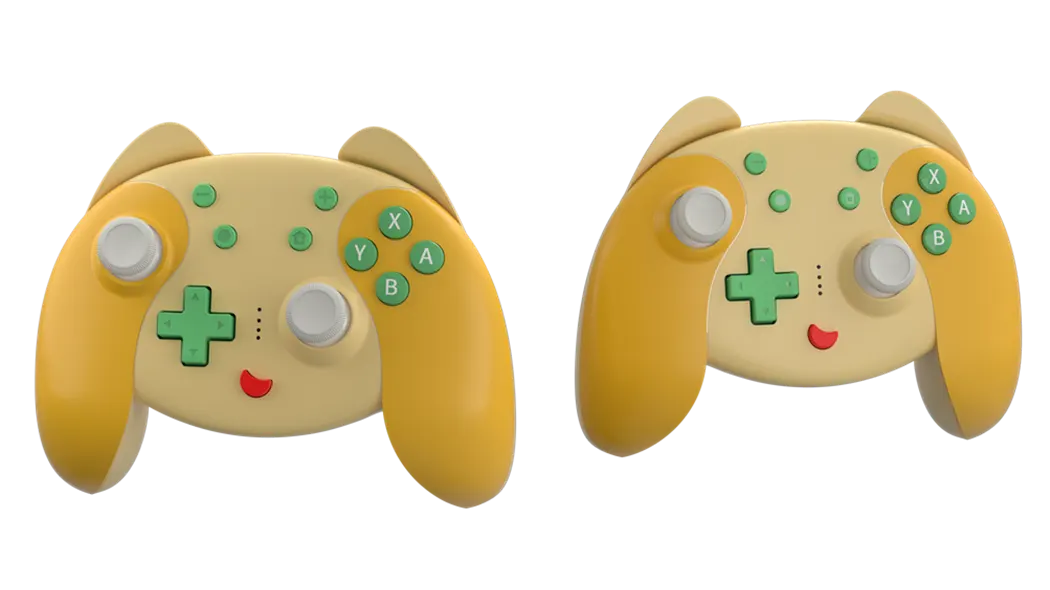 SHENZHEN, CHINA – September 17, 2021 – Leading gaming accessory developer STOGA Cooperation is pleased to announce the launch of its latest cutting-edge Wireless Pro Gaming Controller. Titled "Isabelle Wireless Pro Controller", the new controller stands out with its cool puppy-inspired design that makes it a perfect treat for ardent gamers who have a soft corner for furry friends. The controller is compatible with the latest version of Switch/Switch Lite and supports all kinds of online games.
The Isabelle Wireless Pro Controller is a part of the Animal series controller from STOGA. The product was launched earlier this month.
In an exclusive interview, Huimin Jin, the founder of STOGA, shared that they wanted to develop a new gaming controller that would give users a cute feeling but also assure practical functionality for the gamers. Thus, Isabelle Wireless Pro Controller was born.
"We are excited to share with you all that we have recently released our brand new Isabelle Wireless Pro Controller this month. We wanted something that would be cool and fun to look at but also carry cutting-edge features to ensure a phenomenal gaming experience for the gamers. Little puppies are the cutest and loved by all. Thus, we chose the puppy face as the prototype for the exterior design of the controller – right from the casing to the arrangement of the buttons to the use of creative colors, every single design detail is incorporated strategically to create an adorable puppy-inspired pro gaming look. It will make an amazing gift, especially for pet-lover gamers", stated Mr. Jin.
Speaking on, Mr. Jin shared that the new Isabelle Wireless Pro Controller is engineered with state-of-the-art functions that make it a great alternative for Switch and Switch Lite controllers. The controller is packed with in-built 6-Axis Somato Sensor, dual motors as well as turbo function that altogether make it an excellent switch control to play online games.
One of the major USPs of Isabelle Wireless Pro Controller that keeps it ahead of the regular switch controllers is its One-Key connect button. The new STOGA product features a separate One-Key connect tab that eliminates the hassle of working with complicated combination keys to pair the switch. Mr. Jin revealed one of the main thoughts behind designing the Isabelle Controller was to make the whole process more streamlined and simplified for the gamers.
The Isabelle Wireless Pro Controller also assures an ergonomic advantage for gamers to ensure a more enjoyable gaming. The gamepad is intelligently designed to assure a comfortable hold for users, especially those with small hands. Additionally, the latest wireless pro gaming controller also comes with an ergonomic non-slip mat.
"Our Isabelle Wireless Pro Controller is just the thing you need to enjoy a memorable family gaming time with every member of the family, including little kids. The controller ensures a comfortable grip so that users like little kids and players with small hands can hold it conveniently and enjoy gaming for hours."
Top features of Isabelle Wireless Pro Controller
Dons cute puppy-inspired design
Carries two analogue sticks
Carries multiple buttons, including NFC button and tab for wake-up function
Compatible with latest version of Switch and Switch Lite Controllers
Assures fast pairing with innovative simple one-button connect key
Easy motion control and dual shock
Adjustable Turbo button function
3 Turbo speed levels that make it easier to play action and arcade games
Supports Switch and Switch Lite connection in both wireless and wired mode
Features in-built 6-Axis Somato Sensor
Ergonomic design assures comfortable hold, even for players with small hands
User-friendly operation
Long battery time
"Our Isabelle Wireless Pro Controller will make an excellent treat for both veteran and amateur gamers that are still learning the ropes of online gaming. One of the best bits about this cute cutting-edge gamepad is that it assures a wonderful gaming time whether you are playing with family or friends. With the holiday season just round the corner, our latest puppy-inspired wireless pro controller will make the ideal gift for the gamer in the family or friend circle."
A name of big repute across the global gaming accessory development scene, STOGA Cooperation is renowned for delighting gamers with innovative high-performance gaming controllers. One of the major aspects that keep STOGA ahead of the curve is its focus on designing customizable gaming controllers to make gaming more enjoyable, as per the specific interests and preferences of each gamer. Added to gaming controllers, the company also designs and develops state-of-the-art gaming keyboards and other gaming accessories like carrying cases for Switch, protective cases for Switch, and more. STOGA products are compatible with both PC and gaming consoles, and are used by both professional and casual gamers.