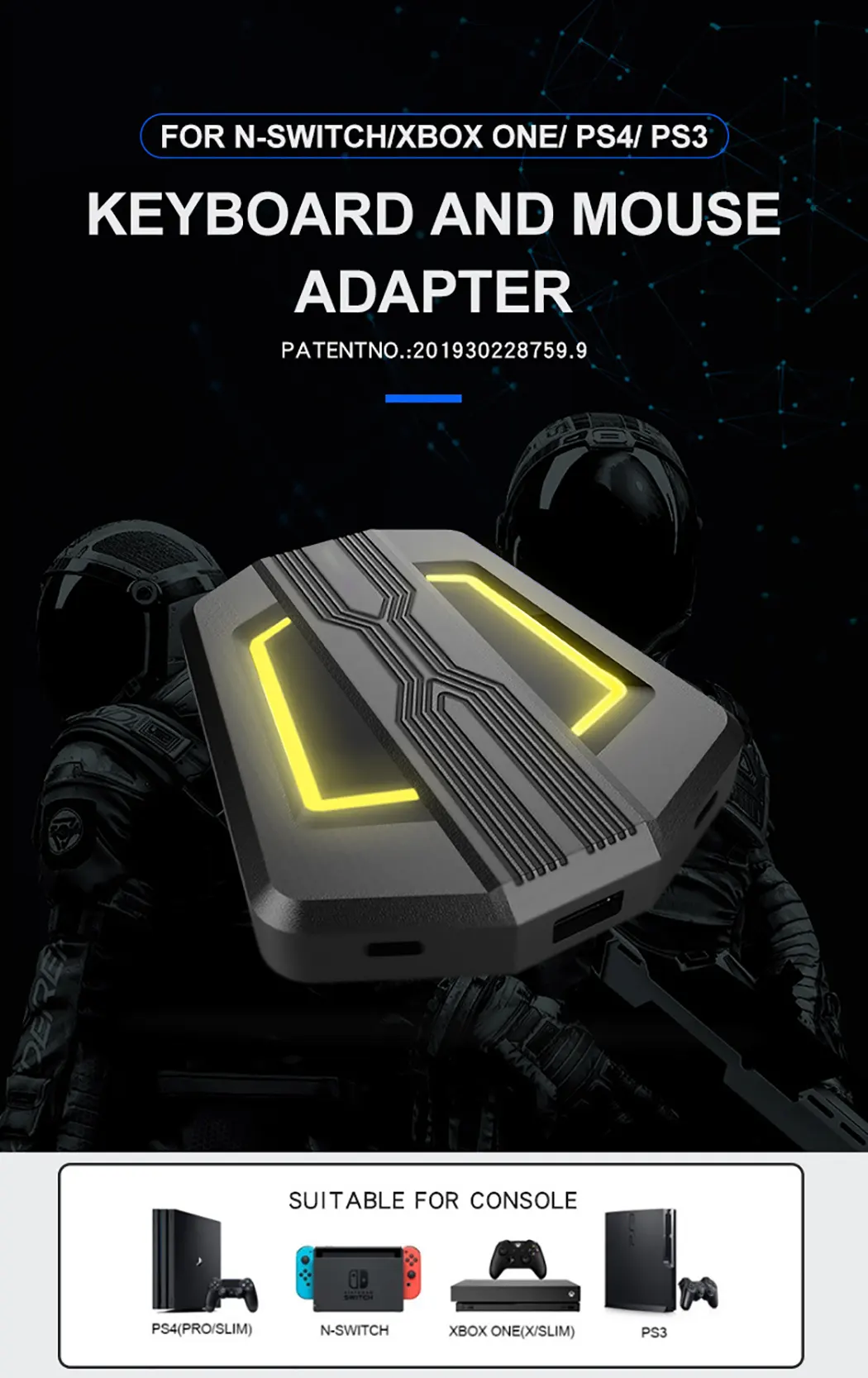 Multifunctional Design: Applies to Switch host, compatible host includes (PS4/XBox One/PS3/XBox 360).
Achieve High Compatibility:

Play games using keyboard and mouse on these game consoles, supporting most wired keyboards, one-handed keyboards, mechanical keyboards, wired mice.It will give you a more real and exciting game experience than before by using a keyboard and mouse in place of your game console controller. Excellent for FPS (First Person Shooter),TPS (Third Person Shooter), RPG (Role Playing Games) and RTS (Real Time Strategy) games and so on.

Connection Instructions: three USB ports,two Type-C ports, one 3.5mm headphone port, connected to the four-segment American standard cable. Start the game console and use the USB to TYPE-C data cable to connect the Converter.The handle interface is inserted into the original wired handle for guidance, and the keyboard and mouse interface are inserted into the keyboard and mouse for game operation. Keyboard mouse usb interface don't plug in reverse.
Function Setting:Mouse can switch Y axis direction.Support mouse sensitivity selection. Support custom buttons,meets players with related habits.After insert controller、keyboard、mice separately,All the signs are that the green light flashes once and the red light is always on.After all connected successfully, the red light breathes and you can use the keyboard and mouse to operate.Press the set key function and the green light flashes.
Note: Keyboard mouse usb interface don't plug in reverse.Use the original controller.The wireless handle needs to be plugged into the boot when the machine is off. On the PS3 or PS4, it takes a short press of the handle's PS key or the keyboard's ESC key to connect to the console after the converter is plugged into the PS3 or PS4.In case of problems, please provide product specific model information to customer service for upgrading. Please read the instruction carefully before using.